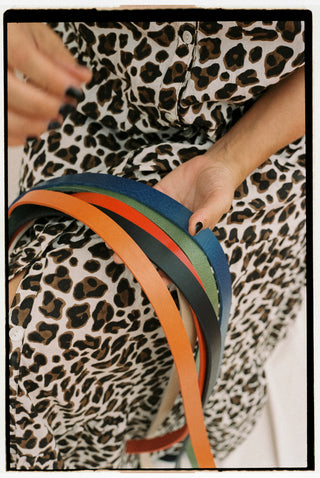 About Can Can
Cristina Ruiz Montesinos, creative director and founder of Casilda se Casa, decides to launch Can Can Dogs at the same time as she received a gift: her dog Sancha, a bodeguero that changed her life and with which the obsession to design the perfect collar for her is born.
As a big admirer of canine culture (palpable in literature -with examples in The Friend by Sigrid Nunez-, films -with the endearing Mike Mills' Beginners- or in art -the love of Frida Kahlo, Pablo Picasso or David Hockney for their loving companions is well known-) she opened an Instagram profile for Can Can Dogs as an inspiration wall where references to the ties between the canine and the human worlds could be found. That passion would turn into the need to create beautiful, durable, and quality products for dogs. An idea as simple in its approach as difficult to develop in a market marked by the lack of diversity in the designs and creative possibilities.
In December 2022, Can Can Dogs is born to celebrate the unrivaled relationship between humans and their best friends, adventure mates and loyal followers, from a perspective based on the personal and detail-oriented selection of items as essential as they are special. The first drop, named Galicia, is an homage to all of this as well as artisanal leather work. For its manufacturing, they have relied on the help of a specialized team, most notably the artisan Juan Pérez, from Nigrán, who has crafted the materials used to shape the leashes and collars that come out in this collection.
None of this would have been possible without all the friends who have supported this project. Thank you to Álvaro Medina, Ana Coronel, Ana Sáez de Montagut, Ana Tovar, Andrea Suárez, Bea Tomey, Bárbara Arena, Carmen de Blas, Cecilia Álvarez, Eduardo Jones, Eneko Etxebarria, Erny Bacharach, the group chat Friends, Daniel Guadaño, Jaime Alonso, James Dorguin, Juan Pérez, the Rodríguez &Co, Lola Rabal, the Sierras, Manuela, Marta Sánchez, Mario Ximénez, Mónica García, Myriam González, Nata Vergara, Nico Yllera, Nous Nous, Pelayo Martín, Santiago Riveiro, Sofía , Teresa Burgaz, Gabriela of Four cottons, Universal Family and the entire team at Wozere.